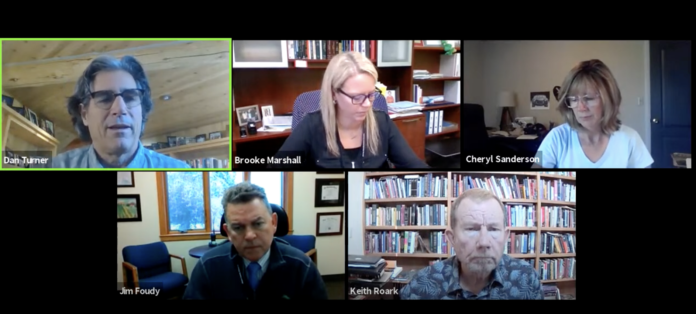 BCSD will review 21 of its real estate holdings to vet for employee housing
By Eric Valentine
You can add the Blaine County School District to the list of Valley governing bodies doing whatever they can to solve—or make some kind of dent in—the ongoing housing crisis.
During its Aug. 4 meeting, the district's housing committee agreed to take two crucial steps in helping its employees find a place to live:
1. To draft a housing policy for the school district—based closely on the current City of Sun Valley plan—that would offer some sort of remuneration to some number of staff that would offset housing costs.
2. To review 21 BCSD real estate holdings to determine if any of them would be suitable for the development of employee housing.
Neither has been put in front of the full school board yet, but the housing committee is planning to have information to review some time in September. In the meantime, here's the backdrop to both items.
The Housing Policy
The form that any sort of housing subsidy takes is the devil in the details, for a number of reasons. First is how to determine who gets the subsidy if demand for it outnumbers supply. The district could limit the assistance to lower-income employees or to new-arrival teachers, the two populations that are most heavily affected by the current cost of and shortage of housing, respectively.
Board president Keith Roark, who sits on the committee along with trustee Dan Turner, noted the importance of housing availability when it comes to not only retaining but moreover recruiting new talent. Turner added that the committee at some point needs to create a sort of eligibility matrix that takes into account financial need, housing need/availability, and an overlay of how those things impact the district's strategic objectives.
How employee rents would be covered will impact how employees get taxed. The committee will now go into a discovery phase to see if it's best to issue the subsidy as extra income, as reimbursement, as stipend, as per diem, or as something else entirely.
"I'm not sure how much we're helping if we're adding a tax burden," BCSD financial director Cheryl Sanderson said.
Messaging was also discussed. Specifically, getting the word out to people in the Valley who have or know people who have housing available to rent. Roark suggested that rather than asking families—some of whom may even be struggling themselves—to help in that way, it'd be better to reach out to the Ketchum-SunValley real estate associations for help.
"Those are the people who know what's around and what's available and I think they'd probably welcome the chance to work with us on that," Roark said.
A Real Estate Solution
In total, the school district holds title on 34 properties. Of those, 21 of them are available for development, and it's highly unlikely that all of them someday would need to be new schools. That means there may be a few out there that make sense to develop into affordable housing—places to live that teachers and other staff could afford.
"It's exciting that we have some options, but it's not a quick solution," Sanderson said. "We're a year out probably with anything that would have to go into a permitting or application process."
Newly seated superintendent Jim Foudy noted earlier during the session that a similar policy was implemented in the McCall-Donnelly area, his most recent school district.
"We secured long-term leases of rentals and then sublet those properties to employees on a sliding scale," Foudy said.