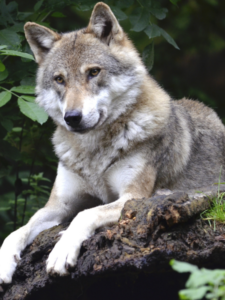 The Hailey Public Library will host "A Day in the Life of the Wood River Wolf Project," a virtual talk with field manager Logan Miller and assistant Nate Redon on Thursday, July 29, at 5:30 p.m. They will share new techniques and challenges as project leaders work collaboratively to minimize conflicts between livestock and wolves.
"Wolves are large, charismatic predators and local sheep ranchers need to make a living," said Kristin Fletcher, the library's program manager. "This dynamic can sometimes lead to multiple layers of conflict."
Miller and Redon will share what their typical work day might look like, new tools and techniques for protecting sheep, and touch on the potential impact of recently passed legislation which greatly expands efforts to reduce wolf numbers.
Miller has a B.S. in agricultural sustainability and is in his second year as field manager for the Wood River Wolf Project. A transplant from Tucson, he grew up spending summers in the Wood River Valley visiting family. He has long-term experience with wolf conservation efforts in the Mexican wolf recovery region and has also worked on human rights campaigns in Mexico City, solar-energy initiatives in Arizona, as well as with the U.S. Forest Service.
Redon, who is the newest addition to the project team, is a graduate of the University of Washington with a degree in environmental science and resource management with a focus on wildlife conservation. His extensive field experience ranges from fisher camera studies in the Cascades to coexistence work with Gelata monkeys and wolves in the highlands of Ethiopia. He recently finished a pronghorn study in Wyoming.
The Wood River Wolf Project is a collaborative, community-led project composed of community members, livestock producers, wildlife NGOs, and county, state and federal agencies working together to use proactive, nonlethal deterrents to minimize conflicts between livestock and wolves. Over the past 14 years, the project has developed a wide variety of nonlethal tools alongside our ranching partners, ranging from flashing lights and air horns to human presence, in order to keep sheep and wolves safe here in the Wood River Valley.
Those interested in the sessions should RSVP to kristin.fletcher@haileypubliclibrary.org.