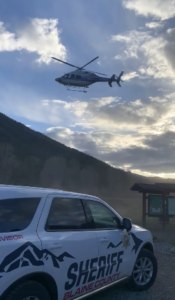 On Tuesday, May 11, at approximately 4:54 p.m, Blaine County Search and Rescue was dispatched to a report of a lost adult male hiker in the Adams Gulch/Fox Creek area, north of Ketchum.
Incident command was set up at the Adams Gulch trailhead by Blaine County Sheriff's deputies, assisted by the Ketchum Fire Department. The hiker reported being uninjured but lost and having trouble locating the trail due to area snow. The victim's cellphone was pinged to be on the Fox Creek loop trail on the ridge between Adams Gulch and Fox Creek.
Air St. Luke's was contacted and was able to quickly get their helicopter in the air. The helicopter team was able to locate the victim and pick him up on the ridgeline. The hiker was brought to the incident command at the trailhead. No injuries were reported to rescuers or the hiker.