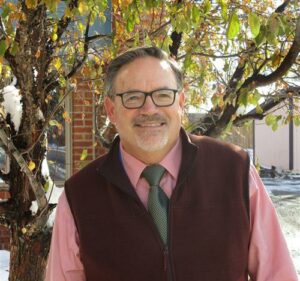 Blaine County School District Interim Superintendent Fritz Peters has announced he will retire at the end of the 2020-21 school year, ending a local career that began during a new millennium and ended during a once-in-a-century pandemic.
Peters became interim superintendent in November 2020. This school year, Peters has been integral to ensuring a smooth transition to the next permanent leader of the district, while navigating BCSD through the numerous challenges of the COVID-19 pandemic. He also played a significant role in the search for the next permanent superintendent. James Foudy will become the next leader of the district in July.
Throughout his career, Peters built skills and abilities in a variety of key areas, including the use of data for student growth and school safety and security.
"It has been an honor and a privilege to serve the Blaine County community as a principal and interim superintendent over the course of nearly 20 years," Peters said. "I have truly enjoyed working with so many talented, hard-working and bright young people. I appreciate the trust our families, staff and community placed in me to deliver high-quality learning experiences and to keep students safe. While I look forward to taking this next step, I will miss seeing everyone's faces each day."
Before becoming interim superintendent, Peters served as principal of Wood River Middle School, starting in 2002.
"Fritz Peters had already established himself as a premier BCSD administrator during his time as WRMS principal, long before his extraordinary service as our interim superintendent-—a role he assumed during perhaps the most challenging school year our district has ever experienced," said Keith Roark, Blaine County School District Board of Trustees chair. "Taking over in the middle of a major pandemic and following ten years of declining respect for and confidence in the leadership of BCSD, Fritz has been relentless in his pursuit of improvement at every level of district operations. It would have been both easy and understandable had Fritz declined to take on the added responsibilities of interim superintendent so late in his career and simply retired at the end of this academic year as a middle school principal. Few people in his position would have stepped forward to lead in such difficult times for educators nationwide. Although his tenure as superintendent is one of the shortest in district history, his contributions to restoring confidence and increasing student achievement cannot be overstated. It has been my privilege and pleasure to work with Superintendent Fritz Peters and I regret that our district will soon be without his talents and devotion."
"It has been my honor to know Superintendent Peters personally and through BCSD for almost 20 years," said Lara Stone, board vice chair. "His dedication to his staff and to the success of his students has made him a cornerstone of the district. I am especially grateful for his
willingness to step into the superintendent role at an incredibly difficult time. His extraordinary efforts will impact our district for a long time to come."