Valley reels from 3 high-profile suicides in just 6 months
By Eric Valentine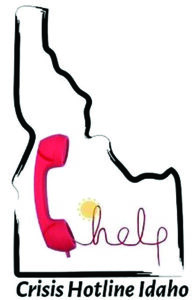 It's one of those things during the pandemic that health experts have also been warning us about. As we isolate to try to protect ourselves against a potentially deadly novel virus, do we open ourselves up to other epidemics at times equally fatal; specifically, issues like domestic violence and suicide, which in isolation can fester and sometimes even intertwine.
In just the last six months, Valley residents have witnessed three higher-profile suicide incidents. In October of last year, Jared Murphy—a former Hailey police officer and Bellevue mayoral candidate—allegedly shot and killed a former girlfriend before ending his own life inside the Bellevue coffee shop where she worked. The Blaine County Prosecutor released Idaho State Police investigators' findings last week declaring the incident was murder-suicide.
And then, within one two-day period at the end of last month, two more suicides sent Valley residents emotionally reeling. Stephen Begley, 64, of Hailey, had struck Sarah Cardella, 42, of Boise, with his Subaru Outback when she was walking westbound in the south crosswalk of Maple and Main streets with her husband and dog, March 25. Begley exited his vehicle, observed what happened, and then sat back down in the driver's seat and took his own life by an apparent self-inflicted gunshot wound to the head, Hailey Police Chief Steve England confirmed in a statement. Cardella was transported to the Wood River St. Luke's hospital by ambulance, and the injuries she sustained were non-life-threatening. Cardella's husband and dog did not sustain any physical injury.
"We know Begley was talking on his cellular phone at the time of the collision and the case is still pending Begley's toxicology results," England said.
On March 26, Johnny Richard Hood, 50, apparently took his own life. Hood was known by friends and family as "Rico" and was a popular musician around town, performing solo, in bands, and while hosting open mic nights in Bellevue and Hailey, too.
"Rico was a good friend, open and supportive. His contribution to the musical culture in our valley was profound. I'm personally devastated by his passing and shall miss him greatly," wrote Bellevue resident John Marsh on Hood's memory wall on the Wood River Chapel website.
"Post-vention"
While it may feel like the stories just described are over, Tammy Davis is trying to raise awareness that after suicide is when certain work begins. Davis is the executive director of the Crisis Hotline Idaho. She explained that suicide prevention needs to occur before someone takes their life and after, so that a community can heal and learn everything from new coping mechanisms to how to spot a potential mental health issue in friends, family and other loved ones.
Across the country, there are awareness campaigns focused on knowing the five signs of emotional pain. They are:
Personality changes
Uncharacteristically angry, anxious, agitated, or moody
Withdrawal or isolation from other people
Neglect of self-care and engagement in risky behavior
Being overcome with hopelessness and overwhelmed by circumstances
"We can't take the approach that we don't know everything or it's not our business or there's nothing we can do about it," explained Davis. "We can do something about it. There are many resources out there people don't even know about."
Specifically, Davis points to organizations like NAMI (National Alliance on Mental Illness), St. Luke's, and the South Central Public Health District who team up to offer funding for therapy, support groups, and programs like Recovery In Motion which provides peer support for people in between therapy sessions and/or support group meetings.
"It's important to have support during those in-between times, when things might not be OK," Davis said.
Davis said that compared to 2018-19, calls into her helpline have gone up 200% and are still climbing.
"That shows us the community can be aware and they want to do something," Davis said.
Alternative Paths
Kathryn Grohusky is the executive director of The Sawtooth Society, which several years ago began a program inspired by Austin Kraal and his family. Kraal ended his life in 2011 at the age of 26. His legacy lives on through his parents' support and funding of The Sawtooth Society's Austin Kraal Memorial Volunteer Program. Every summer, important on-the-ground projects like trail maintenance and restoration are completed in partnership with the U.S. Forest Service. Individuals, schools, businesses, and religious organizations who want to volunteer can help maintain 150 miles of roads and trails alongside professional Project Leaders.
To date, the program has accomplished a great deal, having logged over 10,500 volunteer hours. Since the program first began in 2013, youth, ages 10 to 18, have been a key component in reaching those goals. It is estimated that over 500 youth have assisted with various Austin Kraal memorial projects throughout the Sawtooth National Recreation Area.
"This outdoor program can create a positive outcome for someone else experiencing anxiety or other mental health challenges while supporting the land Austin loved so much," said Kevin Kraal, Austin's father. "That's what we want for our son's legacy: for others to get outdoors, to help take care of trails, and to feel the restorative power of nature. It can heal you."
For Grohusky, time spent earlier in her career in Colorado has come full circle. For several years when she worked for the coroner's office there, Grohusky was involved with survivor support for those affected by suicide. Her biggest takeaway from that experience was how many ways people can offer support, but don't know how.
"Offer ways you can actually help someone," Grohusky said.
For instance, don't tell someone who is grieving a loss, "Just let me know what I can do." Instead, offer them something specific, such as, "Let me bring dinner to you tomorrow night. Will you be home?"
"Just offer that nonjudgmental support you would if someone died from a heart attack," Grohusky said. "Bereavement is bereavement."
A CIRCLE OF HELP
• National Suicide Prevention Hotline
​24/7, free and confidential support
800-273-TALK (8255)
• Idaho Suicide Prevention Hotline
Crisis intervention, emotional support, problem solving and referrals to local resources
Call or Text: 208-398-4357
• Crisis Text Line
Free, 24/7, confidential. Text "HOME" to 741741
• American Foundation for Suicide Prevention (AFSP)
Understanding and preventing suicide through research, education, and advocacy
www.afsp.com