You might know his bro
By Eric Valentine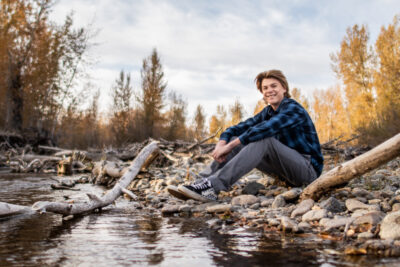 You are not seeing double.
Brogan Ros, who you see here, is the identical twin of last week's Student Spotlight feature, Davis Ros. And twinhood is something both young men believe—ironically—helped make them unique. For Brogan Ros, having a twin, he says, has made it easier to develop new friendships.
"It has forced me to learn how to share things from an extremely young age, and it has forced me to learn how to have an open mind about different perspectives," Ros observed. "It has also made me unique in the fact that I have an ability to get over differences very quickly, which has helped me to make many friends and to learn to not hold grudges."
A lifelong resident of the Wood River Valley, Ros says his favorite thing about living in the Valley is that there are so many activities to do, like alpine skiing, mountain biking, swimming in the rivers, camping nearby, and hiking. They are welcomed breaks from his heavy course load that includes A.P. Government, A.P. Human Geography, College English, and A.P. Statistics.
Ros also takes a ceramics class and competes in both basketball and track.
"I enjoy the fast-paced play and team aspect most about basketball, and I enjoy seeing my improvement each meet for track. I am also extremely competitive, so that's why I enjoy both of these sports, as well," Ros, who also coaches at youth basketball camps, explained.
Ros describes his plans after high school as "pretty vague" and his long-term life goals as "very vague." But they don't lack focus on some basic key elements.
"All I know is that I'm going to college, most likely on the East Coast somewhere," Ros said. And to "just have a job I enjoy, that hopefully pays well, and probably having kids and a family."
When Ros considers what impact he hopes to have on the world, that also involves a basic and key element.
"I would make sure everyone in the world has clean water because it is such a necessity for life to have drinkable water, and it should be a basic good that everyone has," Ross said.
Editor's Note: Anyone who would like to recommend a Blaine County School District student for the Wood River Weekly's "Student Spotlight" feature should contact news@woodriverweekly.com.