A sense of social responsibility
By Eric Valentine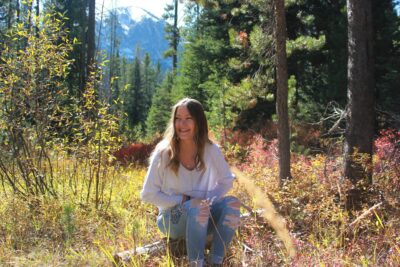 Take a look at what Sofia Peller has taken part in during her high school career and it's not hard to guess where she plans to be going once the Wood River High School senior graduates.
Peller is co-president of the W.A.T.E.R. (We Appreciate The Earth's Resources) club, the scholarship coordinator of Nosotros United, a member of the Compassionate Leaders program, and youth representative on the Hailey Climate Action Committee. On the weekends, Peller volunteers as an assistant ski instructor for Higher Ground. And next year Peller is bound for Montana State University, where she plans to earn a degree in environmental studies with minors in political science and women's studies. After that she hopes to go on to law school.
"I hope to become an environmental lawyer and influence policy," said Peller, who helped organize and spoke at the local climate strike this past fall. "I want to create change in this world by protecting the natural environment for generations to come."
Peller already helped affect change in the Hailey City Council election in which she volunteered in Sam Linnet's campaign against an incumbent. Linnet won.
Peller's anticipated change of scenery next school year, from Gem State to Treasure State, makes her value life in the Wood River Valley and all that she will miss.
"My favorite thing about the Valley is the close connection that everybody has with each other," Peller said. "It is amazing to see our town come together to support each other in times of need and celebrate together in times of joy. I love seeing friendly faces wherever I go and knowing that I have a town of people who support me and my goals. I have been provided countless opportunities because of the close connections that I have made with community members. It is also awesome to live in such a beautiful area with a huge access to amazing mountains, lakes and trails."
Peller has a rigorous course load at WRHS that includesA.P. Government, dual-credit chemistry, dual-credit precalculus and college English. She also holds down part-time work at both 5B Fruit and Gravity Fitness and Tennis.
One of Peller's passions is travel. The daughter of a German immigrant, she recently spent time in rural Panama and hopes to study abroad and work abroad at some point in her future.
"I think my love of travel and willingness to leave my comfort zone is something that makes me unique," said Peller. "I left my comfort zone far behind when I moved to a new country, by myself, to live with a host family and attend a local school. While discovering a new way of living, I discovered so much about myself and what I am capable of."
"If I could change one thing about the world, I would give all people the ability to see things from a different perspective in order to live more compassionately," Peller said. "I feel that people are very divided and if we could only accept our shared humanity, the world would be a much more peaceful place."