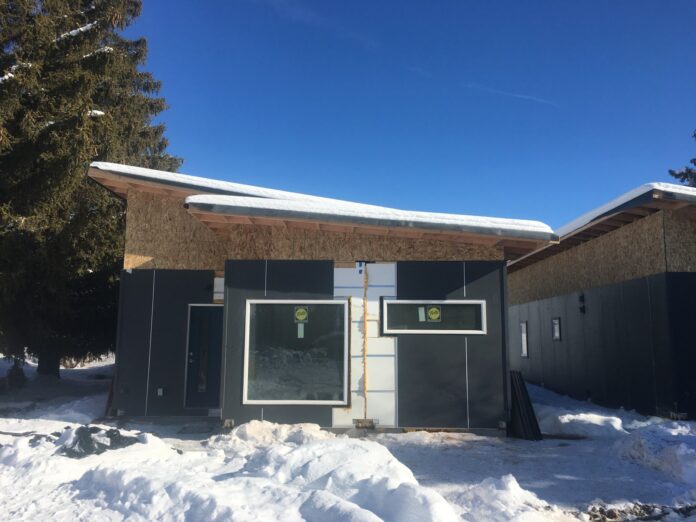 Boise-based company puts Bellevue in forefront of sustainable housing industry
BY ERIC VALENTINE
This last April Fools' Day, annual anonymous Ketchum-based pranksters "remodeled" Clear Creek Disposal dumpsters to resemble tiny houses. It was a faux attempt at solving the Valley's housing crisis—that conundrum that makes it unaffordable for the workforce here to live here.
It was a joke with a serious sustainable/affordable-housing editorial side, as noted by Ketchum Mayor Neil Bradshaw who, at the time, said, "This local humor highlights a local issue that is on the top of everyone's minds and is not going to go away until we solve it or at least make a significant dent into our housing requirements."
Enter indieDwell, a Boise-based company currently erecting two homes on the southeast corner of 4th and Cedar streets in Bellevue. The sustainable/affordable part: the homes are constructed from old shipping containers. And an aesthetically pleasing part: the homes are far more attractive than Ketchum's prank dumpsters.
That's not to say there aren't some constructive concerns.
"I wasn't especially taken by the look of the structures as presented on (indieDwell's) website," said Kristin Fletcher, a neighbor to the new home in Bellevue. But … "One of the things needed most desperately is affordable housing for couples in their 30s and 40s."
Because the construction put not just a single-family home on the formerly vacant lot, but also a second dwelling unit, Fletcher was alerted by the City of Bellevue about the development.
"The first thing I did was read the city's document and visit the (indieDwell) website," Fletcher said.
And then she hoped for the best. What she observed from that point forward was pleasing.
"I have to say, as a neighbor, one thing that was fascinating to watch was the flatbed trailers coming in with sections of the home and then a crane placing each section onto the foundation," Fletcher explained. "It happened so quickly and so quietly. That's a big plus."
Although Fletcher would have hoped for the more woodsy version of the two sidings indieDwell offers, she praised the City of Bellevue for making sure the lilacs, Douglas fir and other large trees that line the property stay in place and intact.
"The color of the house is a sort of receding color, not something like bright yellow, and with the trees surrounding the home, everything just works," Fletcher said. "Bellevue has small lots and these homes could fit nicely here."
Who Builds There?
Founded as a public-benefit corporation in 2016 by Scott Flynn and Pete Gombert, indieDwell's mission statement says they had grown "tired of seeing the most vulnerable people being forced to live in inferior, low-quality and unhealthy homes" and they were on a mission "to offer high-quality, sustainable, healthy homes to underserved communities."
Locals are not alone in their desire for more affordable and sustainable housing options. In May of 2019, indieDwell was invited to display one of its homes on the National Mall in Washington, D.C. In five days, the company said, it had nearly 6,000 people tour through.