Rising up to be like dad
By Eric Valentine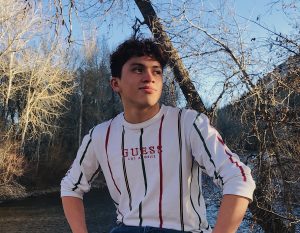 When Diego Rosales thinks about his future, he thinks about his past. That's because, even with all the hopes and goals he has to go to university at one of two prestigious California private schools, it's the example of his father, Juan, that he aspires to be.
"I hope to one day become as hard of a worker as my dad and have those traits be reflected on my friends, peers, or possible children," Rosales said.
The Wood River High School senior's dad was born in Guanajuato, Mexico. And although, Rosales says, his dad may not be "particularly interesting" compared to other higher-profile parents in these parts, he is a hard worker.
"He spends over 10 hours a day working in construction to adequately support me and my siblings," Rosales said.
That work ethic was not lost on this generation of the Rosales family. Diego Rosales has a course load that includes A.P. Calculus AB, A.P. Government, A.P. Psychology, College English and Intro to Art. His grade point average? 4.05 (weighted).
"I am also currently a part of Every Teen Counts (ETC), which is a youth group led by The Advocates. This group meets once a week on Sunday to discuss the daily issues of teen dating violence in our community and how to overcome dating violence through peer voice," Rosales said.
The academics and extracurriculars are backdropped by part-time work, as well. Rosales works at Bigwood 4 Cinemas in Hailey where he says he is refueled by the "overall atmosphere of my work environment."
If Rosales gets accepted into the University of Southern California or Pitzer College—his top schools of choice—he will miss some things about the Valley in which he has lived his entire life.
"The one thing I will miss most about the Valley is the available resources at my disposal to become as successful as I can be. I will miss my endlessly supporting nonprofits, such as The Advocates and The Hunger Coalition, who have had a significant impact on my life," Rosales said.
That local support has created a thoughtful, grateful young man in Rosales.
"If I could make one thing better about the world, it would be ending stereotypes. I found that the overarching issue in most communities is the roles we put on both gender and religious stereotypes. If we help stop this assumption, we can foster a community to grow and expand beyond ourselves," Rosales said.