Outside adventures, interior designs
By Eric Valentine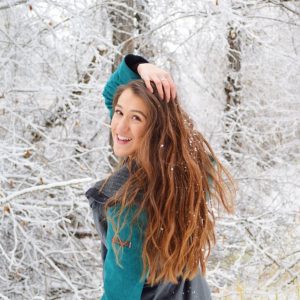 Sariah Nilsen's outlook on her future right now is a compelling combination of being open to adventure and having a penchant for design—a metaphor that plays itself out in her love of the outdoor life the Valley has to offer and her interest in becoming an architect or interior designer down the road.
Nilsen is a senior at Wood River High School where she is studying Strength & Conditioning, Studio Art, College English, Government, Calculus, and Video Productions II to the tune of a 3.8 GPA. She is also a three-sport varsity athlete in volleyball, basketball and softball.
"Volleyball is and always has been my favorite sport, because I've always had a really strong connection with my teammates and I love the intensity and passion that we all share for the game," Nilsen said.
Nilsen also has a strong connection to family and community, as demonstrated by her involvement in National Honor Society and the community service she performs through her church.
"I also have early-morning seminary every day before school; this is my fourth year of this," Nilsen explained.
Nilsen's family connection can be seen in how she has followed in the footsteps of both her parents in some key ways.
"My mom grew up in Preston, Idaho, and was very athletic and busy, like me. She played volleyball, basketball, softball, track, and was on the rodeo team. She now is a radiologic technologist up at the hospital," Nilsen said. "My dad was born in Twin (Falls), but moved here his freshman year. He also played sports (basketball, baseball). He now owns his own construction company in the Valley. He also built the Bow Bridge and boardwalk in Hailey."
Nilsen is undecided on whether to take a year to do a mission for her church or to head straight to college. And, she says she is not really sure what she wants to do, career-wise.
"But it would be cool to become an architect or interior designer. I'm excited to someday have a family of my own. I would love to continue playing volleyball, and eventually share my love for sports with my children," Nilsen said.
If Nilsen's path takes her outside the Valley to design building interiors, she will miss the exterior here, she says.
"My favorite thing about living in the Valley is probably being able to create so many fun outdoor adventure memories with my family and friends: crazy jeep rides through huge puddles, bike rides, spending time at the river, hiking, backpacking, etcetera," Nilsen said.