Tri-sport star is 'mad' for math
By Jesse Cole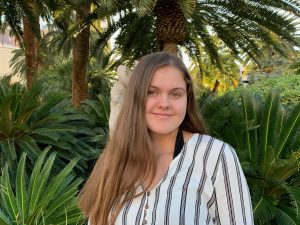 Wood River High School junior Paige Madsen knows exactly where she's been and exactly where she's going.
Carrying a 3.7 GPA, Madsen doesn't shy away from a challenging workload. Next year, she will be taking A.P. Calculus, A.P. Physics, A.P. Language and Composition, A.P. Macro and Micro Economics, U.S. history, and video productions.
While her course load is extensive and varied, Madsen harbors a passion for one subject in particular—math.
"Math is definitely my thing," Madsen said. "I just get it."
This knack for numbers isn't new for Madsen.
"Ever since I was little, I had a fascination for it, and I've always been good at memorizing numbers," she said.
All of these skills are ones that Madsen hopes will serve her well in the future, as she is currently interested in pursuing a business major focusing on investments and finance.
"I also will probably do something with statistics, because I want to be a data analyst," Madsen said, a career that would certainly play to her strengths.
Beyond the classroom, Madsen is also a tri-sport athlete at WRHS, participating in varsity volleyball, basketball and track, as a middle blocker or right-side hitter, power forward or center, and a jumper in the triple jump and long jump, respectively.
While she enjoys each sport individually and for different reasons, her love of volleyball is one that she hopes to continue into college.
"Volleyball is a very mental, technical game," Madsen said. "I love playing basketball and the contact of it, but there's just something different with volleyball. It's not necessarily about what the other team is doing to you. It's how you deal with it."
This firm mental discipline is evident in the many aspects of Madsen's life and the balance she strikes between them, echoing in her determination to conquer her rigorous high school course load as well as her careful consideration of the future.
She attributes much of this to the women she looked up to in her life.
"My mom has definitely been my biggest influence, and then my grandma," Madsen said. "They're both just such strong women who empower me and encourage me to be the best I can be."
In pursuing this personal best, Madsen will no doubt continue their legacy.
Editor's Note: Anyone who would like to recommend a Blaine County School District student for The Weekly Sun's "Student Spotlight" feature should contact The Weekly Sun at
news@theweeklysun.com.