By Blaine Bug Crew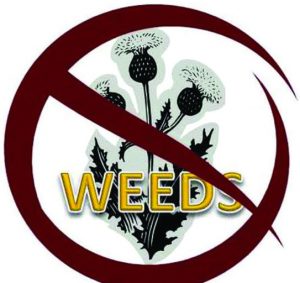 Hey, we're back! The 2019 Blaine Bug Crew is working hard to fight noxious weeds and helping out the community.
Introducing the returning crew from last year, they are: Kaci Kelley, Kobyn Benzeval, Cody Power and Melody McHan. We get financial and vehicle support from the BLM, U.S. Forest Service and Blaine County Weed Department.
To start out the summer, we had to go to a training to re-learn and discover new skills that we need to help the environment with invasive species. At the training in Gooding, we learned about all of the bugs that we would be using to kill noxious weeds. We also learned how to tell invasive and native plants apart.
Some of the noxious weeds we work with are Canada thistle; spotted, Russian, meadow, squarrose and diffuse knapweed; Dalmatian toadflax, leafy spurge, purple loosestrife, houndstongue and whitetop. Another thing that we learned was which bugs to use for each plant.
The next thing that we did was go out into the field in the desert and learn how to set up a transect. We use transects to determine if the bugs are working in the area and how many bugs are there.
After we learned how to set up a transect and learned what they are used for, we got to practice gathering the data for our site. Then, after we all got a little practice, we went home thinking about how excited we were to start work the next morning.
What we do on the Blaine Bug Crew is use bugs like Mecinus Janiformus to control noxious weeds, such as Dalmatian toadflax. We also monitor certain areas that have a lot of noxious weeds and control them by using certain bugs for each type of noxious weed. We have a booth at the fair and we ride on a float in the Blaine County Fourth of July parade in Hailey.
The Blaine Bug Crew is a free service. We do not spray or mow the weeds and the areas we use cannot be disturbed in any way, so our bugs can reproduce and attack their weed hosts. Everything we do to get rid of weeds is natural through the use of bugs. We can be contacted by phone at (208) 316-0355.