Constitution change would add a seventh member to a currently bipartisan group
By Eric Valentine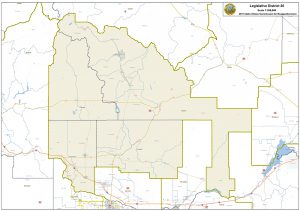 A number of Democratic lawmakers in Idaho are giving an icy reception to a proposed constitutional amendment that would change the bipartisan makeup of the group in charge of voter redistricting, describing it as a surefire way for Republicans to gerrymander elections and subvert a voter-passed initiative that is nearly three decades old.
The minority party can rest easy, for now at least, since the resolution was sent back to committee Feb. 12 where it may be held for the remainder of the legislative session. However, it remains to be seen whether Republican supporters will scrap it altogether, move it to the floor anyway, or bring it back in some form next year.
"Put simply, this will gerrymander Idaho, and make Idaho even more partisan," Rep. Mat Erpelding (D-Boise) said. "Our current system ensures collaboration and fairness. All Idahoans have the right to free and fair elections. Gerrymandering is the scourge of U.S. politics and Idaho is heading that way."
The current system is the so-called Idaho Commission on Reapportionment. It's made up of six members, three Republican and three Democrat, who every 10 years take new census data and create voting districts based on population, rather than—at least in theory—party or class. The group must come to a two-thirds vote for their recommendations to take effect. Idaho is not considered a gerrymandered state due to the current system.
The commission is slated to meet next in 2021 to redraw districts after results of the 2020 census have been collected.
"The three-to-three balance means the committee has to work together to get their desired result. That's good governance," Rep. John Gannon (D-Boise) said. Put another way, anti-gerrymandering folks would say voters are supposed to choose their representatives, not the other way around.
But any even-numbered voting committee can also be a recipe for gridlock. And in 2011, the commission had to be dissolved and new members appointed after a 90-day deadlock pushed the limits of election deadlines for district mapping. State legislative staff described that experience as "stressful."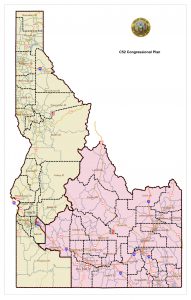 Rep. Steve Harris (R-Meridian) sponsored the resolution. He was unable to return calls or emails prior to deadline. However, the aim of the proposal was to allow five elected officials—the governor, lieutenant governor, state controller, state treasurer and state superintendent of public instruction—to select the seventh and tie-breaking committee member.
"Passing this bill would allow Republicans to eliminate any political enemies, Democrat or Republican," Erpelding explained. "It eliminates a bipartisan process and creates a perverse process in which decisions will be made behind closed doors and acted out in public. When the amendment to create the commission passed, it was because Idahoans demanded transparency in government, not secret deals determined in a smoke-filled backroom. That is not the best way to have an effective government."