Aspiring engineer discovers passions for space and long-distance running
By Emilee Mae Struss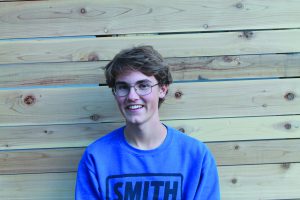 Wood River High School senior Owen Ruggeri is a 'mathlete' in the truest sense of the word. In addition to his three years with the varsity swim team, Ruggieri added the sport of running to his passions to balance out his rigorous academic pursuits.
Ruggeri started running track in the spring of his junior year and then joined cross-country at the start of his senior year.
"Being in track, I discovered I really love running," he recalled recently. "I wanted to run longer races, like the 5k."
This spring, Ruggeri plans to run track again and continue to push his limits in distance beyond graduation.
"I want to run even longer races—like marathons," Ruggeri said.
Along with his discovery of endurance running, Ruggeri has an interest in things beyond the boundaries of the eye, including a keen interest in math and the mysteries of the universe.
He is currently enrolled in five Advanced Placement courses, including Calculus II, Government & Politics, Environmental Science, Physics II, and Statistics.
Ruggeri has a 4.24 GPA and found his niche in science, technology, engineering and math—or the STEM program at WRHS.
"In ninth grade, I took Algebra II (two years advanced for his grade)," Ruggeri said. "And in 10th grade, I really started leaning toward STEM."
Ruggeri took a special interest in math once he realized it is a "model of the world."
He found it fascinating that the construction of the world, or specific elements as we know them, are at their truest core various types of math equations. Ruggeri also enjoys the mixture of both math and science, which melds into a curiosity for space and the unknown things beyond this world.
"I joined Space Club last year as a junior and found it really interesting," Ruggeri said. "Space was a foreign concept [to me] and I wanted to learn more about it."
Space Club has five consistent members who are committed to learning about ancient stories behind constellations in the sky and the difference between structures in the sky such as star clusters and galaxies.
"Star clusters are groups of stars that just happen to be closer together," Ruggeri said. "There are a lot of them out there but usually if you see them in the sky they can be indistinguishable from one another."
The Space Club travels out Croy Creek Road in Hailey once a week with a Celestron telescope to locate constellations in the sky.
Ruggeri grew up skiing and hiking in the Wood River Valley and surrounding areas, and learned new skills such as being a lifeguard with the Blaine County Recreation District for two summers and trying out different clubs in school such as Model UN and debate.
This past summer, Ruggeri was presented with a special opportunity to do trail maintenance and data collection for one month at Yellowstone National Park.
Ruggeri was also proud to share that the one school he was nervously awaiting to hear back from accepted his application and that he will be attending the Colorado School of Mines in Golden, Colo.
Editor's Note: Anyone who would like to recommend a Blaine County School District student for The Weekly Sun's "Student Spotlight" feature should contact Emilee Struss at emilee.struss@gmail.com.