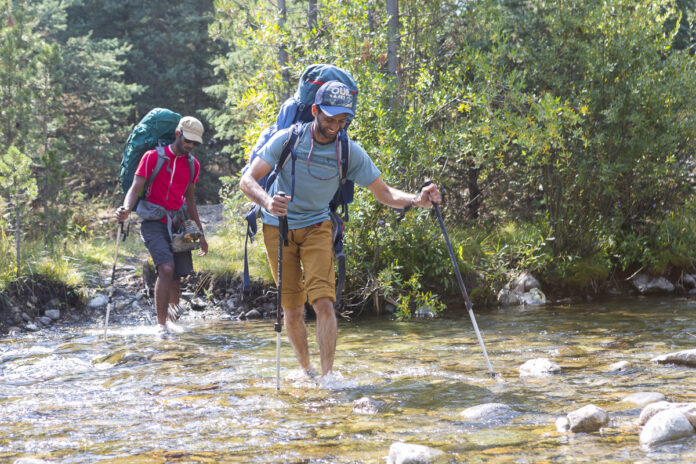 By Hayden Seder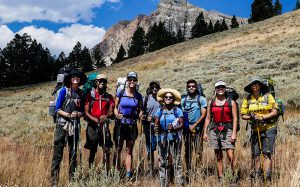 For three weeks in September, the five fellows from this year's Wild Gift program took to the Idaho wilderness to commune with nature and work on their individual initiatives.
Wild Gift was founded 15 years ago by Ketchum resident Bob Jonas as a way to mentor up-and-coming entrepreneurs whose inventions, ideas and initiatives are working to make a better world. The program is unique, in large part because of its outdoor focus; the fellows spend 20 days with a guide and several Wild Gift alumni in the Idaho wilderness, hiking, exploring, getting feedback, practicing pitches, making a one-year plan and more. For the next year after the initial outdoor excursion, fellows do monthly video calls with their mentors and then return to Idaho to reconnect and float the Salmon River. Since its inception, Wild Gift has supported 52 fellows.
This year's class of Wild Gift has five fellows: Diamonique Clark, Justin Falcone, Laura Fieselman, Aneri Pradhan, and Sashti Balasundaram. Balasundaram, the founder of WeRadiate, works to create high-quality compost and make composting more mainstream on all scales. After seeing the practices of composting at a regional farm in the coastal town of Pondicherry, India, while there as an Indicorps fellow, Balasundaram was inspired to improve the waste management paradigm in New York where he lives. WHERE IN NY??? ASK HAYDEN
"People think composting is smelly and dirty, but it's really a scientific process," Balasundaram said. "Composting can be quick and healthy if you do it right. We want to establish guidelines and protocols for city-wide composting."
In addition to exploring technologies and policies that might allow for a more integrated composting framework in different communities, WeRadiate also stresses the importance of education. The organization offers composting workshops and Balasundaram hopes to use the data they collect to teach kids both K-12 and at universities more about composting.
Balasundaram heard about Wild Gift last year through the organization Environmental Leadership Program. A message was put out on the organization's message boards about an Idaho program called Wild Gift. Balasundaram decided to apply and was eventually granted one of the fellow positions.
"I was really intrigued to see a lot of environmental professionals with diversity in Wild Gift's alumni," Balasundaram said. "There are lots of women and people from all over the world. The connection with nature was also intriguing. Being present and totally disconnected for three weeks; that's pretty powerful."
Balasundaram, the other fellows, a guide, and two Wild Gift alumni/facilitators headed into the wilderness at the beginning of September for their 20-day excursion. Balasundaram had never backpacked more than three or four days and the experience was completely transforming for him.
"I had no clue that these kinds of stunning landscapes existed in the United States or Idaho," Balasundaram said. "It gave me a sense of urgency to see the landscapes and think about how I can elevate my organization to the next level."
Some days Balasundaram and the group would do long day hikes and not actively work on their initiatives at all, whereas some days the morning might be spent doing pitch presentations or getting feedback before hiking in the afternoon.
After their 20-day trip, Balasundaram and the other Wild Gift fellows were introduced to the community at an event at the Ketchum Innovation Center. The fellows discussed their experiences in the wilderness and the projects and initiatives that they will continue working on.
For more about Wild Gift, visit wildgift.org.