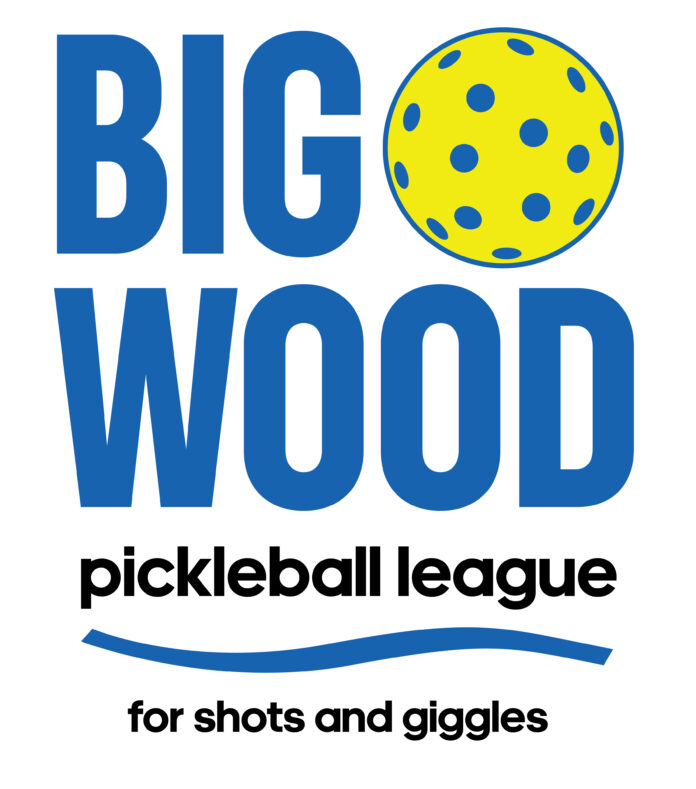 You may not have heard of the BIG WOOD Pickleball league, but there's a good chance your neighbor, best friend or favorite bartender not only knows all about the league, but might very well be playing in it. After all, the BIG WOOD Pickleball league has even drawn the attention of Ketchum Mayor Neil Bradshaw, enticing him to join one of two Ketchum teams.
Here's what you need to know: there are 12 teams, 24 coaches, 120 players, 35 backup players and five playing locations across the Valley, with matches running from June 27 to the finals on August 12. Teams are represented by Ketchum, Sun Valley, Elkhorn, The Valley Club and Gravity Fitness & Tennis, with sponsors from all over the Wood River Valley.
Multiple teams were seen over the weekend practicing for their opening matches, spending time to learn the "rally" point scoring format game up to 21 points. Rally scoring increases the excitement of a game where every single point matters to win the game, the match and the overall league. Which means a beginner player's point is just as valuable as a nationally ranked player's point. Which makes games more fun and often filled with laughter.
This new league will continue for five weeks followed by a week of playoffs and ending in a championship match and BBQ picnic. Each team has a name picked by their sponsors, including:
Taco Tuesdays by Barrio75
Brine Brawlers by TNT Tap Room
The Drillers by Snake River Oil + Gas
adi-picklers by adidas
Picklers by Power House
Rockets by RE/MAX Sun Valley
Los Mejores by La Cabañita
Designated Dinkers by Lefty's Bar & Grill
Diamond Dogs by Hartzman & Rifkin
Court Crowns by Ben Franz, DDS
Designer Dinks by Taft Design Works
The Warriors by Gordon Production Company
Players from all over the Valley rushed to sign up for the BIG WOOD Pickleball league, which filled up in less than a week from its announcement. Play is fun, social and a little competitive, as the league motto states, "for shots and giggles."
For additional information: contact woodriverpickleball.org.
TEAMS & PARTICIPANTS
adi-picklers
Carol Gullstad: Team Coach

Lee Sponaugle: Team Coach

Gerianne Johnson

Candice Stark

Glenn Shapiro

Criss Fallowfield

Rhonda Brown

Cathy Furlow

Preston Brown

Wayne Gullstad

Alma Mills

Leigh Everett
The Drillers
Mimi Griswold: Team Coach

Richard Brown: Team Coach

Doug Phillips

Kerry Guggenheim

Chris Turner

Susan Snyder

Lindsey Armeen

Josie Conely

Lisa Silver

Richard Stark

Sue Toeniskoetter

Luis Alberto Lecanda
RE/MAX Rockets
Joanne Wetherall: Team Coach

Donald Becker: Team Coach: Michael Horowitz

Robin Phillips

Kristi Wood

Cydney Conger

Coco Levering

Maura Doyle

Cooper Taylor

Alisa Ludwig

Dale Bates

Spooky Taft
Designer Dinks
Sarah Halverson: Team Coach

Daniel Harden: Team Coach Jim Taft

Tony Knapp

Geoff Wells

Melody Atkins

Susanne Kretschmer

Carol Felsentha

Susan Kase

Dan Petree

John Heinrich

Mary Ann Chubb
Picklers
Lisa Hamilton: Team Coach

Ryan Neilson: Team Coach Jess Wolcott

Lora Kennedy

Sarah Benson

Mindee Smith

Sandra Caulkins

Kristen Barr

Doug Neidrich

Jill Pollock

Lisa Patterson

Bill Kirby
Court Crowns
Kristi Drinkwater: Team Coach

Jim Kanellitsas: Team Coach Sam Adicoff

Michelle Sabina

 

Becky Brown

Hannah Bigelow

Rick Flores

Colleen Weaver

Vicki Shapiro

Rick Fabiano

Jackie Murphy

Claudia Mihm
Diamond Dogs
Jen Embree: Team Coach

Mal Coyn: Team Coach

Andrea Rifkin

Lloyd Dyer

Char Bagley

Scott Jordan

Julia Heithecker

June Bowe

Walt Ingram

Brandy Horowitz

Jane Peterson

Bonnie Larson
Designated Dinkers
Wendy Speth: Team Coach

Robert Shuford: Team Coach

Kelly Smith

Gurmeet Singh

Elizabeth Yuengling

Cecilia Giacobbi

Denise Hodges

Nancy Grant

Tim Hamilton Miguel Lundsford

Munser Qadourah

Aleta Taylor
Los Mejores
Kris Miller: Team Coach

Lex Panayiotou: Team Coach:

Valerie Ashbaugh

Rachel Clifford

Greg Pfeifer

Susan Lovett

Katie Craig

Linda Felker

William DePaul

Gail Dwyer

Jen Schwartz

Jim Siegel
The Warriors
Cynthia Knight: Team Coach

Tom Bowman: Team Coach

Julie Evans

Hugh Kretschmer

Ellen Fastow

Mollie Santo

Sue Huttar

Maura Pfeiffer

Joe Weber

Amy Lingard

Mark Pattison

Trinka Dyer
Taco Tuesday
Sue Hamilton: Team Coach

Geordie Foster: Team Coach

Ruby Campbell

Jane Buxton

Duree Westover

Sue Kwapich

Sue Phillips

Teresa Ensch

Adam Taylor

Neil Bradshaw

Johnny Bolton

Larry Meads
Brine Brawlers
Patti Lousen: Team Coach

Scot Buxton: Team Coach

MJ Abraham

Stephanie Sandberg

Bobby Noyes

Pearl Glaves

Mindy Meads

Jenny Femling

Jesse Silverman

Elaine Ingram

Tony Glaves

Maureen Baker