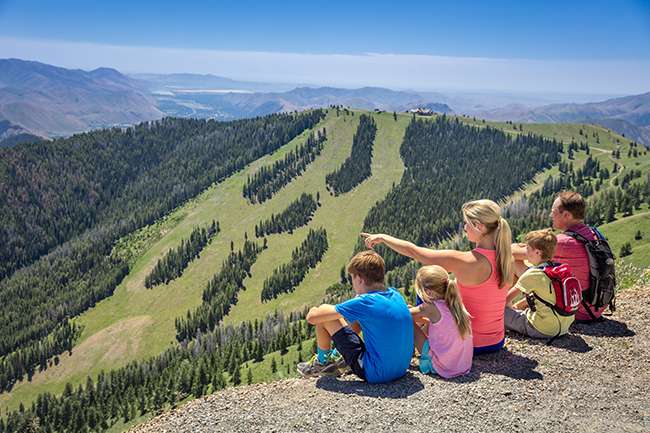 Full lineup of shows, concerts slated, including Olympic gold medalist Nathan Chen
By Eric Valentine
Amid record-setting inflation and a pandemic with new variants, spending time and money at popular resorts may not seem an optimal summertime choice. But when you consider the amount of opportunities for outdoor recreation—some of which are low-cost or even free—Sun Valley Resort may become option number one for many. For some folks, it just may take a little re-sorting of priorities.
On the heels of the annual Sun Valley Wellness Festival & Conference—a signature four-day event here—June 25 has been set as opening day for Bald Mountain summer lift service, the traditional catalyst for an entire slew of summer- and family-friendly events, including ice shows and concerts. It marks another classic Valley experience that feels like—to some degree—things have gone 'back to normal.'
A major highlight of the summer will happen July 16. That's when reigning Olympic Gold Medalist, three-time World Champion and six-time U.S. Gold Medalist Nathan Chen will headline the ice show.
So Much To Do, So Much New
Saturday, July 2, is the annual Bald Mountain Summer Kickoff Party at River Run. There will be a day full of free outdoor yoga, live music, lawn games, an outdoor BBQ and bar, free bike inspections at Pete Lane's and raffle prizes including a custom New Belgium bicycle. New this year is the River Run Summer Series, a casual opportunity to gather with friends and family for an evening outdoors held five Wednesdays in a row beginning July 20. The community is invited to come down to River Run from 4 to 7 p.m. to hang out at the base of Bald Mountain with live music, lawn games, food and beverages.
Lift service will be extended for the series operating 9 a.m. to 6 p.m. and a portion of the proceeds from lift ticket sales will benefit a different local nonprofit each week.
The Roundhouse Gondola and the Christmas Chair will start spinning for the season on June 25,  providing access to Bald Mountain for hiking, dining at the Roundhouse restaurant, and sightseeing. Access to downhill mountain biking will begin one week later, on Friday, July 1, with mountain bike rentals available at Pete Lane's at River Run.
Visitors can enjoy hiking and biking 12 trails totalling over 38 miles including the longest purpose-built downhill mountain biking trail in the U.S. which drops over 3,300 feet. Access to the trails is free and visitors wishing to catch a ride to the top of the mountain can opt to purchase lift tickets online or at the River Run ticket office starting at $26. Lifts will run 7 days a week from 9 a.m. to 4 p.m. with alternative hours on select Wednesdays in July and August.
Beginning on June 25, guests can soak in breathtaking views while enjoying lunch at the Roundhouse, perched at 7,700 feet on Bald Mountain.
Namaste-cation
Fresh-air yoga is back in a big way this summer at the Resort with offerings at least four days a week in July and August, many of which are free. Complimentary yoga classes sponsored by Brass Ranch will take place at River Run most Saturdays and Tuesdays at 9 a.m. beginning on June 21. Additionally this year, The Spa at Sun Valley will offer free yoga on the Pavilion lawn at 10 a.m. on five Wednesdays throughout the summer:
July 13
Aug. 3, 10, 17, 24
Participants of all ages and skill levels are welcome to join these community gatherings and are encouraged to bring their own mat, water, sunscreen, and sunglasses. Yoga on the Mountain will be held atop Bald Mountain on Sundays at 10 a.m. kicking off on July 10 and running through Aug. 28. Yogis of all levels will enjoy the breathtaking view while practicing with a skilled yoga instructor. The session costs $60 and includes instruction and a lift ticket to the top of Baldy.
A full schedule of classes can be found on the Sun Valley events calendar. Registration for Yoga on the Mountain can be made online or at the Recreation Office in Sun Valley Village.
Icing On The Cake
Sun Valley On Ice will light up six evenings this summer at the iconic outdoor ice rink with many of the best figure skaters in the world headlining the performances. The 2022 season kicks off with reigning U.S. Gold Medalist and U.S. Silver Medalist Mariah Bell on July 1. The July 16 show will feature Chen. And two-time U.S. Gold Medalist and World Bronze Medalist Alysa Lui will shine at the season's final show on Sept. 2.
Reigning World Gold Medalists, Olympic Silver Medalists and U.S. Olympic Gold Medalist pair Alexa Knierim and Brandon Frazier will also be featured in this year's Sun Valley On Ice star-studded lineup on Aug. 6.
"There's something simply magical about watching the world's best skaters performing live, under a blanket of stars that you can't find anywhere else," said Scott Irvine, the producer of Sun Valley On Ice. "It's what sets Sun Valley On Ice apart from any other skating production."
Tickets start at $79 and can be purchased online or at the Recreation Office in the Sun Valley Village starting June 6.
Sun Valley Resort is teaming up with many local nonprofits to host a myriad of concerts and events this summer, including cultural favorites like the summer symphony and rocking good times with the Avett Brothers. Country rock bands Cadillac Three and the Powell Brothers will kick off the concert season in the open-air Sun Valley Pavilion on Saturday.
Ballet Sun Valley will host the Boston Ballet with artistic direction from Mikko Nissinen for two evenings in the Pavilion, June 24 and 25. The Pavilion and lawn will host 14 free symphony concerts brought to the community by Sun Valley Music Festival between July 24 and Aug. 18. All concerts begin at 6:30 p.m. and seats in the Pavilion or on the lawn are available on a first-come, first-served basis.
Sun Valley Museum of Art will offer their Summer Concert Series beginning with Lyle Lovett and Chris Isaac at River Run on June 30 and concluding at the same venue with the Record Company with Lindsay Lou on Aug. 11. On July 13, the Pavilion will play host to three-time Grammy Award nominees the Avett Brothers. Tickets for all shows at the Pavilion and River Run are on sale now and more information can be found on the Sun Valley events calendar.