BY AALIYAH ROJAS
OUR VOICE COUNTS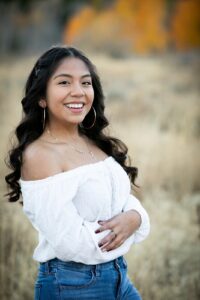 I am a student at Wood River High School and co-president of Nosotros United, a club with a mission to promote the blending of cultures and ambitious dreams for all. Recently, we organized an event at our school that I'm incredibly proud of and believe we should see more of in our schools. We brought the film, "Hailing César," a documentary about labor rights leader, César Chávez, to our English and history classes. Many students, including myself, were touched by the documentary because it connected to our families. Growing up, I heard very little about him in school, and if it weren't for my interest and research, I would probably not know much.
The Latinx community makes up 42% of WRHS students. Many parents, grandparents, uncles and cousins came to the United States as migrant workers. Talking about migrant work and immigration has become a delicate topic in today's world and is often avoided.
I, for one, am beyond thankful for Eduardo Chávez (César Chávez's grandson and director of the film) for letting us show this special film and talking with us afterward. This event will always be memorable for me as it has opened my eyes to the injustices that can occur to those who feel invisible. I was one of those individuals who believed they did not have a voice; however, over the years, I found it. I'm grateful for my teachers, school, and community members for including this as part of our curriculum. I hope it continues.
NUESTRA VOZ CUENTA
Soy estudiante en Wood River High School y co-presidente de Nosotros United, un club con la misión de promover la mezcla de culturas y sueños ambiciosos para todos. Recientemente, organizamos un evento en nuestra escuela del que estoy increíblemente orgullosa y de la que creo que deberíamos ver más en nuestras escuelas. Trajimos él documental "Hailing César," a nuestras clases de inglés e historia. Este documental es sobre el líder de los derechos laborales, César Chávez, y el impacto que dejó en muchos individuos. Muchos estudiantes, incluyéndome a mí, se sintieron conmovidos por el documental porque se relacionaba con nuestras familias. Al crecer, escuché muy poco sobre él en la escuela, y si no fuera por mi interés e investigación, probablemente no sabría mucho.
La comunidad latina representa el 42% de los estudiantes de WRHS. Muchos padres, abuelos, tíos y primos llegaron a los Estados Unidos como trabajadores migrantes. Hablar sobre el trabajo migratorio y la inmigración se ha convertido en un tema delicado en el mundo actual y a menudo se evita.
Yo por uno estoy más que agradecida por Eduardo Chávez (nieto de César Chávez y director de la película) por permitirnos mostrar este documental especial y hablar con nosotros después. Este evento siempre será memorable ya que ha abierto mis ojos a las injusticias que pueden ocurrir a aquellos que se sienten invisibles. Estoy agradecido por la ayuda que recibimos para incluir esto como parte de nuestro currículo. Espero que continúe.