Balancing life and art
By Eric Valentine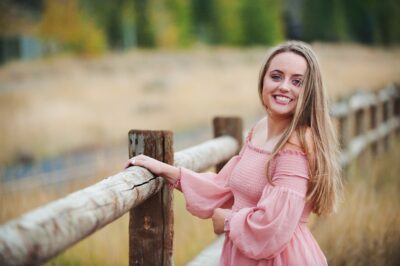 Murphy Kendall describes her family as "huge and complicated." But since she was little, her focus has been pure and simple—she loves to skate and she loves to dance.
"I skate six days a week, at least seven hours a week," Kendall calculates. "I have been dancing for Footlight Dance Centre since I was in second grade but I started dancing when I was three."
Figure skating. Ballet. Contemporary dance. These are more than hobbies for the Wood River High School senior. They are passions. And soon that passion will be placed within the iconic character of Princess Leia, the character she will play in "Star Wars: Trap at Arcturus" at her senior dance show.
What's more, Kendall also passes on her skills through teaching. This year she started volunteer teaching Learn To Skate classes at Hailey Ice; specifically, three classes a week, each having an average of six kids.
Balance is key in dance, and Kendall balances her passion with a rigorous academic course load.
"Besides figure skating and dance, I also am part of National Honor Society and National Dance Honors Society," Kendall said. "I am taking A.P. U.S. Government, College Algebra, A.P. Human Geography, College English, and Mythology."
Kendall is still waiting to hear back from schools, so she's not sure where she will be spending her university years. She does know what she wants to do.
"I would love to study abnormal behavior and go all the way through and get a Ph.D in psychology. I do hope to continue to take some dance classes at school and, depending on where I go, continue to skate or even teach skating," Kendall explained. "I am not totally sure on a career but I know I am interested in being a forensic psychologist. I want to work in criminal justice and analyze criminal behavior."
So, what about that huge and complicated family, as Kendall puts it. See if you can follow along.
"My parents divorced when I was three, and both remarried. I basically have three brothers and one sister, none of whom are full-blood siblings. I have one brother at Bellevue Elementary, one brother at Hemingway Elementary, one brother who is a junior at Community School, and my older sister is a sophomore at Northern Arizona University."
Not complicated enough to complicate her desire to have her own family one day, "but I'll focus on that later in life," Kendall said.
What she wants to do sooner is travel the world.
"There are so many places I want to go to and see," Kendall said. But she realizes there's a lot she'll miss about the Valley when she's gone.
"I think it will be hard for a while. I'll be missing the mountains and waking up to a foot of fresh snow. I do see myself living here again, I'm just not sure when," the avid skier, hiker and waterskier observed.
Kendall hopes to impact the world one day by helping to get clean water to poor areas. She went to Cambodia last month with a company that helps families procure clean water, and it changed her perspective significantly.
"Clean water is something we take for granted," Kendall said. "After seeing how much of a difference clean water can make for someone, I would love to help bring clean water to everyone."
Editor's Note: Anyone who would like to recommend a Blaine County School District student for the Wood River Weekly's "Student Spotlight" feature should contact news@woodriverweekly.com.