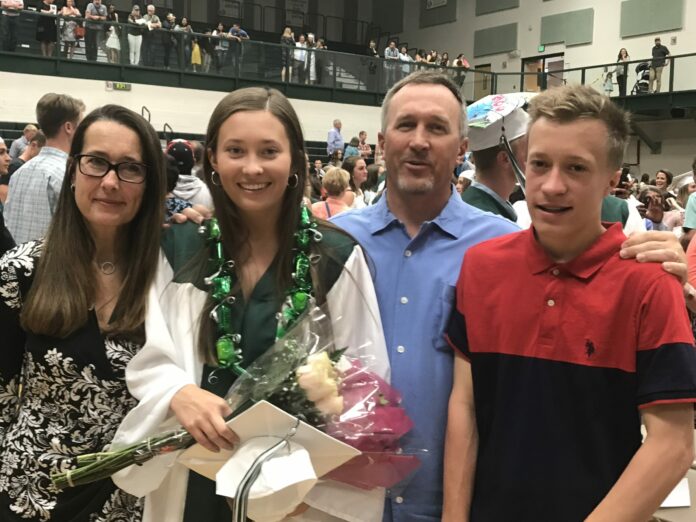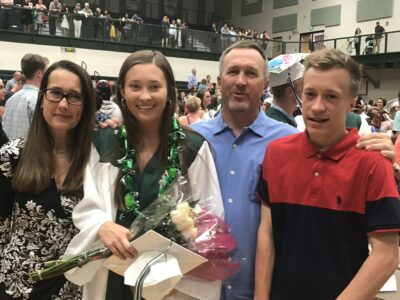 Trying to catch Sarah Benson, executive director of Hailey Ice, for more than a few minutes during the crazy busy winter season is like a youth hockey goalie trying to stop a shot from an NHL superstar: possible, but pretty hard.
The only surety is that Benson can be found doing every job there is to do at the Campion Ice House in Hailey, every day. "Normal days are pretty long in the winter," Sarah laughed.
For instance, this past weekend, Sun Valley Youth Hockey (SVYH) hosted a Bantam tournament with teams from Boston to Park City. Next up is the IHAA state championship, a Mite Jamboree, an event with the Challenged Athletes Foundation, and a Bellevue and Alturas Elementary School free skate night. In between are Suns games, curling club events, and general skates—not to mention fundraising, grant writing, and getting texts at 7:30 a.m. from people asking about skate sharpening.
For Sarah, what happens at Hailey Ice is a labor of love. "I don't look at my job as a job. I don't clock in and clock out," she explained. "My favorite part about it is all the things we do in the rink. I love the Suns games because it brings lots of people in to enjoy a great night. I love the curling because it gives people who might not otherwise be on the ice a way to try a really fun sport. This week we had 35 kids from Hailey Elementary in the building for their winter sports week. Every day is unique."
The success of Hailey Ice is something of a Cinderella story, with Sarah playing the role of the hardworking, relentless and determined fairy godmother.
Bippity-boppity-boo'ing the building of this important community resource, though, took a lot more than the wave of a wand. "After the first rounds of fundraising stalled a bit," Sarah explained, "I walked in and asked for the job. Even if I failed, I was going to give getting this building built my best shot."
Now, Hailey Ice brings hundreds of people into the Wood River Valley, supporting not only the rink, but local hotels, eateries, and shops—a great example of trickle-up economics. "This facility is having a very positive impact on this town and the entire Wood River Valley," Sarah said. "And in this Valley, we're all in it together."
Though Sarah certainly has a passion for hockey and plays twice a week, schedule permitting, she started on the ice in figure skates. In fact, she first came from Kentucky to the Wood River Valley with her grandparents as a child and practiced on the iconic outdoor rink at the Sun Valley Lodge. She switched over to hockey in her early 20s when she started dating now-husband Chris, who played for the Suns. Sarah is also mom to two hockey players, son Zach, who plays on both the Midget and high school teams, and daughter Morgan, who is playing club hockey at Arizona State University. Chris continues to play and to coach for SVYH.
Even as a young girl, Sarah knew Sun Valley would always figure into her future. "I was sure I was going to live here, I just didn't know how," she said. How turned out to be moving here for 'one winter' after college to learn to ski, and then meeting Chris, getting married at Trail Creek in 1996, and starting on a varied career path that took her from working for Sun Valley Resort to becoming a high-tech recruiter, owning her own recruiting firm, and working in finance.
After a diagnosis of an autoimmune disease, Sarah knew she had to switch gears. The pivot to helping to build and to running Hailey Ice allowed her to put all of her skills and strengths to excellent use.
Five questions for Sarah:
WRW: What's next?
SB: We are working on an expansion of Campion Ice House that is really exciting. We are planning to add 8,000 square feet with a new dryland room, more storage, bigger meeting rooms, an expanded café, and bigger locker rooms. We have drawings and are waiting on formal bids. We are using the space year-round for events like a green home and garden show, private parties, and summer hockey camps, and this next phase will help make all our goals even more viable.
WRW: What does a perfect non-hockey weekend look like?
SB: I had a perfect summer weekend last year for my 50th birthday. About 20 to 25 of us—a bunch of families—went to Sunbeam to raft and camp. I hadn't rafted in about 20 years and it was so much fun. Any weekend spent at the spa would also be a great weekend!
WRW: What's the most exciting thing about hockey in the Valley right now?
SB: We're definitely seeing a resurgence in hockey participation, from five-year-olds to adults. A lot of people of all ages are coming out and trying hockey or are coming back to it.
WRW: New Duchin or old Duchin?
SB: Old! I always think of working there when I first moved here, wearing my 'Duchin dress'—a black, ankle-length dress with white piping and puffy sleeves. I also remember and love the 'old, old' Duchin back when it used to be a restaurant. I had a lot of birthday dinners there when I was a kid.
WRW: What is the most popular item at the concession stand?
SB: It's a tossup between pretzels and churros.
There is so much fun to be had at Campion Ice House. Whether you are showing up to cheer on the home team (big one coming up—Suns versus Jackson Hole, March 13 and 14); are playing in a hockey tournament; learning to curl; or just taking a few peaceful laps around the ice, chances are, if you're at Hailey Ice, Sarah will be there to greet you. She will, with her excellent team, help to make your experience a great one.
"We love that the community has embraced us," Sarah said. "We will give our everything to do what we need to do for them."
For more information on Hailey Ice, check out Haileyice.org. To nominate someone to be featured in this column, please send an email to production@woodriverweekly.com with the subject line: Someone to Meet.
If hotels and restaurants aren't busy and people aren't working, we're not going to live in a very vibrant town. The rink has an impact, the Liberty Theatre has an impact, summer music festivals have an impact. One thing alone can't do it.