Mayor Bradshaw Names Wagon Days Grand Marshals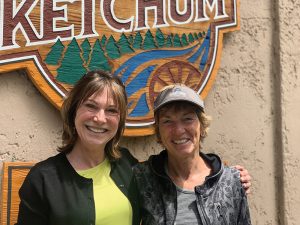 Ketchum Mayor Neil Bradshaw has named two prominent Valley arts advocates—Kathy and Patsy Wygle—as the 2019 Wagon Days Grand Marshals.
For over 50 years, the Wygle sisters have been at the center of theater arts in Ketchum. On Aug. 31, they'll be at the center of a parade—the Big Hitch Parade, which kicks off at 1 p.m. that day.
Kathy
Kathy Wygle served over 20 years at the helm of the nexStage Theatre, ensuring the tradition of theater and culture remains in Ketchum, introducing generations of community children to the arts. In 1977, she founded Laughing Stock Theater Company, and in 1992 became executive director of the Sun Valley Repertory Company, which later became the Sun Valley Performing Arts/nexStage Theatre. When the nexStage owners decided to sell, Wygle led a community effort to raise money and purchase the property. Years later, as she planned to retire, Wygle rallied the community again to raise funds.
Tim Mott and the board of the nexStage mounted a campaign, which culminated in the construction of the Argyros Performing Arts Center.
Patsy
Patsy Wygle has been a theatrical force in the Valley for decades, too. She and her late husband, Keith Moore, began performing musicals for Laughing Stock in 1988. Although they were both New York City devotees, they decided to come out for a year to help Kathy run the nexStage. That was 12 years ago. While working and teaching at the nexStage, Patsy and Keith also headed the Upper School theatre program at Community School for six years.
Wygle is led by the conviction that everyone should have the experience of art and theater in their lives. The Wygles continue to run Laughing Stock Theater Co. in Ketchum, producing the annual Shakespeare Festival and A Christmas Carol. They also run after-school classes and "Summer Stages," a summer performing arts camp held in July.
"Kathy and Patsy have made significant and lasting contributions to this community and its culture for many years," said Mayor Bradshaw. "They are the perfect pair to celebrate at this year's Wagon Days celebration."
The community is invited to honor the Wygles as the 2019 grand marshals at a reception on Friday, Aug. 30, from 5 to 7 p.m. at Ketchum Town Square. Food and beverages will be available. A Barn Dance follows the event from 7 to 9 p.m. at the Ore Wagon Museum with music by Old Death Whisper.
Wagon Days 2019 gets underway at 11 a.m. on Friday, Aug. 30, with the traditional reading of cowboy poetry at the Ore Wagon Museum. The centerpiece event is the Big Hitch Parade, one of the largest non-motorized parades in the Pacific Northwest featuring museum-quality buggies, carriages, carts, stagecoaches and wagons. The Big Hitch Parade starts Saturday, Aug. 31, at 1 p.m.
Weekend festivities come to a close after the Street Party following the parade with music by one of country music's promising newcomers, Brandon Lay. For more information about the 2019 Wagon Days Weekend, visit: wagondays.com.
Worthingtons Worthy Of Each Other For 60 Years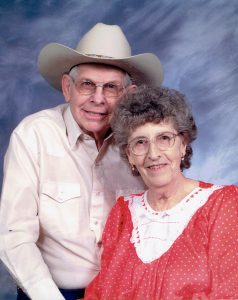 No gifts, please. That's what the Worthingtons write on their invitation to the community to celebrate what will be their 60-year wedding anniversary, an event that will take place Saturday, Aug. 24, from 1 to 4 p.m. at Community Baptist Church in Hailey. But at a time where roughly half of all married couples divorce and many couples prefer not to tie the knot at all, the idea that love can last past six decades may be the present many of us need.
"We talk before we decide. We do things together," Ken Worthington says about him and his bride, June. "We both have the travel bug. We're both teachers. I think that's one of the big things. Do things together."
Together, Ken and June Worthington raised four children, Robert, DuWayne, Alan and Lollie. Together, they purchased 20 acres from Ken's mother in 1980 and built a home there. They live there together today.
Today, Ken enjoys playing and singing in the Valley senior centers and heading up Fiddlers Inc., the organization that sponsors the Idaho State Fiddlers Contest in Hailey each year. June stays at home and enjoys the grandchildren and church on Sundays. She has written two books and published a few poems.
Ken and June met in Cambridge, Idaho, where they were teaching school. They were married there in 1959, moved to Oregon that year and taught there until they moved back to Ken's mother's farm in Gannett. Ken taught two years in Carey while June started the special education program in Blaine County. Ken attended library science classes and received a master's degree from Utah State University, then worked as a librarian at Wood River High School until his retirement in 1996.
June received a master's degree in special education from Idaho State University and taught in a one-room classroom for special-needs children until she retired, after 23 years, in 1990.
Although the Aug. 24 celebration runs all afternoon, the special program of songs and readings takes place at 2:30 p.m. When asked if the program would include a renewal of their vows, Ken said, "We haven't gotten that far yet."
They have time.
Health Advisory Issued For Magic Reservoir: Harmful Algae
The South Central Public Health District (SCPHD) and the Idaho Department of Environmental Quality (DEQ) have issued a public health advisory for Magic Reservoir.
Results from recent DEQ water testing show the concentration of cyanobacteria (sometimes called blue-green algae) in the reservoir are now at unhealthy levels and have formed a harmful algal bloom (HAB).
This is the third health advisory issued for a reservoir in south-central Idaho. The first was issued on July 8 for Salmon Falls Creek Reservoir, and is ongoing. The second advisory was issued July 25 for Mormon Reservoir, and is ongoing.
The public is advised to take the following steps to protect their health in all three reservoirs:
Avoid exposure to water in reservoirs under a HAB health advisory. Make sure children, pets, and livestock are not exposed to the water.
Do not drink water with a HAB advisory. Boiling and disinfecting DO NOT remove toxins from water.
Do not allow pets to eat dried algae.
If fishing in HAB water, remove all fat, skin and organs before cooking. Toxins are more likely to collect in those tissues. Wash hands after handling.
"We are issuing an advisory because these toxins can be so damaging—especially for animals who drink or play in the water," said Brianna Bodily, SCPHD public information officer. "Until this advisory is lifted, we urge you to choose a different reservoir to fish and recreate in."
HABs are not unusual in warm summer months and typically shrink quickly as the water temperature drops in mid to late fall. SCPHD will issue another press release when DEQ tests show Magic Reservoir, Mormon Reservoir and Salmon Falls Creek Reservoir are at safe cyanotoxin levels again.
Two Fire Chiefs, Two Retirements
Both the Hailey and Wood River Valley fire departments will be replacing their chiefs this fall. The City of Hailey announced it will bid farewell to Fire Chief Craig Aberbach, who retires on Sept. 30. Wood River Fire & Rescue announced it's saying goodbye to Fire Chief Bart Lassman, who retires Oct. 3.
Lassman served the department for 34 years. Aberbach took his position with Hailey in 2013. The Weekly Sun is planning an in-depth story on the duo in a future issue.
F-18 Jet Alarms Some Valley Residents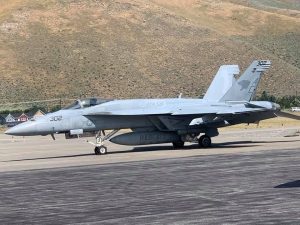 That was not an earthquake, a thunderstorm or someone breaking into your car on Sunday. That was an F-18 fighter jet flying over the Wood River Valley, taking off from and landing at Friedman Memorial Airport.
The sound set off some residents' car alarms and rattled people's dishes in their china cabinets, according to comments made by the public on the airport's Facebook page.
"The sound of freedom!" wrote one commenter. "Absolutely awesome," wrote another.
St. Luke's, Valley Golf Clubs Team Up To Raise Funds
St. Luke's Wood River Foundation and the Elkhorn, Bigwood, Sun Valley and Valley Club women's golf committees will co-host the 2019 "Rally for the Valley" women's golf fundraising tournament.
Event organizer Marilyn Hofman said, "Everyone wants to keep the donations local. This year we're excited about playing to donate to the Emergency Services Endowment in support of the extraordinary care our board-certified emergency doctors and staff provide to our community."
At last year's Rally for the Valley, about 90 women played 18 holes of golf while also raising over $37,000 for St. Luke's Women's Health. Proceeds from this event were used to help purchase an MRI breast system for St. Luke's Wood River's Women's Imaging Center.
With golfers competing in costumes and with decorated golf carts, this year's Rally will be held at the Elkhorn Golf Club on Tuesday, Aug. 20. The public is invited to play or participate in a social hour following the tournament. If you are interested in participating in the tournament or social event, please contact Tate Mills, (208) 622-2271 or tmills@sunvalley.com.
Chamber's After-Hours Event To Focus On Women-Owned Businesses
The Chamber of Hailey and the Wood River Valley is inviting businesses and the public to attend a special Women in Business "Business After Hours" session at the Pure Body Bliss Studios at 91 East Croy Street, Suite B, behind The Mint, in Hailey. It will be held on Thursday, Aug. 15, from 5 to 7 p.m.
Pure Body Bliss Studios was founded 13 years ago with the goal of helping people be healthier and happier, especially focusing on women. That's why co-owners Alysha Oclassen, Jacqui Terra and Gabby Rivelo have decided to focus this month's Business After Hours on empowering and connecting women in the local business community.
"We really love to help build up women so that they can become stronger than they think they are," Alysha said. "But while our mission is to empower women, we are absolutely there for our men folk, too. They are always welcome."
The community is invited to attend this free monthly event to find out more about Pure Body Bliss, to meet local business owners and to catch up on Chamber-related news and events. Food and beverages will be provided, and don't forget to bring your business cards to enter a special "BAH" raffle.
For more information about Pure Body Bliss Studios or to get involved with the Women in Business BAH, please call (208) 720-3238, email info@purebodybliss.net or contact The Chamber at Info@ValleyChamber.org or (208) 788-3484.
Update: Sun Valley Summer Road Work
In the fall of 2017, Sun Valley voters approved a $17.5 million bond for road and pathway improvements throughout the city. Construction activities have been under way for the second year of the four-year program. As the project moves into the neighborhoods, residents should expect minor and temporary delays due to single lanes. Here are the latest updates from the city:
Traffic Updates
Flaggers and/or a pilot car will be at Prospector, Proctor, Wedlen, Mayleaf, Bluebell, Hardrock, Lupine, Blue Grouse, Independence, Fireweed and Thistle directing traffic around construction operations. Roads will remain open to traffic at all times.
Week Look Ahead
The CRABS (cement recycle asphalt base stabilization) rehabilitation process will occur on Prospector, Proctor, Wedlen, Mayleaf, Bluebell, Hardrock and Lupine.
Prospector, Proctor, Blue Grouse, Independence, Fireweed, Thistle and Hardrock will be paved.
A new curb and gutter will be installed along South Village Way.
Roadway culvert replacements and drainage improvements will continue on Lupine.
What To Expect
Work is generally anticipated to occur between 7 a.m. and 7 p.m. Night and weekend work is not expected. Work will include, but not be limited to, general construction noise, dust, equipment backup alarms and ground vibration. Access to residences will remain open at all times, although access points may be shifted to accommodate construction.
Ketchum Woman Arrested For Felony Domestic Battery
On Wednesday, Aug. 7, at approximately 2:45 a.m., deputies from the Ketchum Police Division of the Blaine County Sheriff's Office responded to a report of a possible domestic incident at the Crestview Apartments in Ketchum.
Upon arrival, officers found Katherine Alexandria Brown, age 26, of Ketchum, attempting to leave the scene in her vehicle. Upon investigation, officers also found a 32-year-old male with visible injuries from an alleged domestic altercation with Brown.
Brown was charged with one felony count of domestic battery and one misdemeanor count of driving under the influence (excessive).
Brown is being held in the Blaine County Detention Center pending arraignment.
Hunger Coalition Poses Matching Gift Challenge
Through the month of August, The Hunger Coalition is matching donations, dollar for dollar, up to $50,000, thanks to a generous matching donor. They have currently raised $32,369 of the $50,000 needed from the community to unlock the matching gift.
The organization is seeing a record demand for its services across nearly all of its programs this year. In April, programs associated with The Hunger Coalition hit an all-time high in the number of families accessing food from their food pantry.
The only way these programs will continue to answer the growing demand for healthy food access is through community generosity, the coalition said.
Donations can be made directly on The Hunger Coalition's website: thehungercoalition.org/act/donate/ or checks can be mailed to 121 Honeysuckle St., Bellevue, ID 83313.