Girl On The Move
By Jesse Cole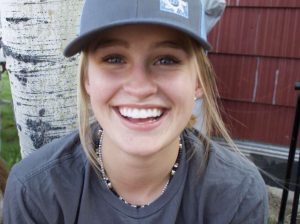 Wood River High School incoming junior Sayler Peavey knows how to go for the goal, in all of its many forms. At 17 years of age, Peavey is a multi-sport athlete, competing in WRHS varsity soccer, basketball and track programs. So, the path toward her goals remains constant.
"I do track before school ends with the high school, then soccer starting right before track ends, which carries through to the beginning of summer, and then I do camps for basketball," Peavey said.
These sports have been a regular part of Peavey's life, starting with soccer and basketball, since she was six. Now she hustles as a midfielder or forward on the soccer pitch, a point guard on the court, and a runner participating in the relay team and the respective events of long jump and 4-by-200 or 4-by-100-meter relays.
Outside of WRHS, Peavey competes for the Sun Valley Soccer Club.
"In our last tournament at Director's Cup, we did the best we've ever done," Peavey said. "It'll be great to see where we go next year."
In many ways, for Peavey, tenacity is the way of the game. Everything is about the next season, the next game, the next personal best.
"I usually like each sport equally," Peavey said. "I just have to make a choice now about which I want to go for in the future and if I do want to play college sports."
Still, while sports constitute a significant part of Peavey's life and her future plans, her aspirations aren't limited to them.
"Next year I'm taking a couple APs [Advanced Placement] and then I'm doing a lot of med classes, like sports medicine and CNA," she said. These classes are all in pursuit of her desire to be a flight paramedic—a passion which she has been working toward since middle school.
"I've really never thought of doing anything else," she said. "With accidents, it's exciting to know what happened and how it was resolved. It's really interesting to me."
Whether it's the rush of adrenaline from the field or the fast-paced action of accident response, Peavey seems determined to live a life of action along a path toward benchmarks and goals.
Editor's Note: Anyone who would like to recommend a Blaine County School District student for The Weekly Sun's "Student Spotlight" feature should contact The Weekly Sun at
news@theweeklysun.com.