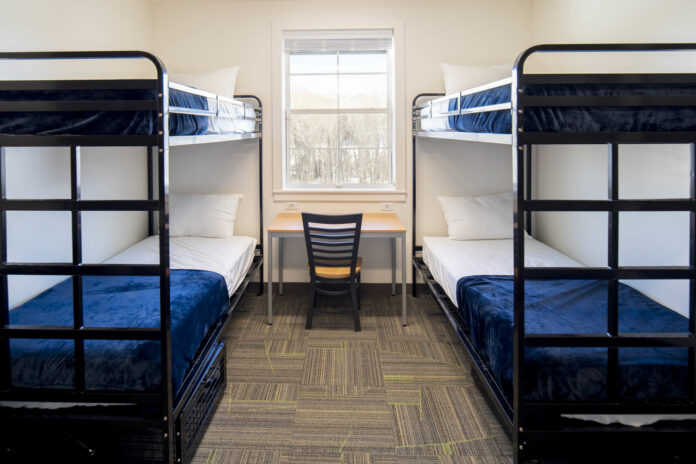 Sustainable, convenient, and other perks, too
By Hayden Seder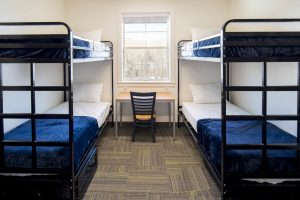 A 575-person dent has been made in the Valley's perpetual need for housing the folks who keep this resort area running. That's due to the recent completion of Sun Valley Resort's new employee housing, part of a two-phase development project constructing residential buildings dedicated to employees. And for workers, the best part is: it's free.
With housing in the Sun Valley area becoming even scarcer and more expensive, the so-called Alpine and Aspen buildings couldn't get here soon enough.
Location, Location… and The Place
Built by architectural firm Ruscitto Latham Blanton, the two buildings face each other across a courtyard with tables, chairs and grills for residents. The new dorms are a short walk from the Pavilion/ice skating rink area to the southwest corner of a 16-acre parcel next to the Horseman's Center. The old dorms, located by the tennis courts and Olympic pool, will be torn down in the fall and the land repurposed, the resort said.
Also finished this month was the new employee cafeteria and administrative offices, part of the final phase of the Sun Valley Inn remodels that was also recently completed. The wholly renovated employee restaurant, called "The Place," includes a pizza station, glass-enclosed cases, salad bar, a made-to-order servery, and new furniture and décor. The administrative spaces include the executive office, finance-accounting department, operations and an internal meeting room.
The Aspen Building
Completed in December 2018, this dorm-style building has 111 rooms—91 quads and 20 doubles. It can house 348 to 464 employees and features amenities meant to promote a sense of community, which has been a priority for the resort.
"One of our focuses has been community development and how can we create more of a community for our seasonal folks and integrate them into the larger community, as well," said Justin Highhouse, talent and engagement manager for Sun Valley Resort.
The three-story building features multiple lounges and areas for residents to engage. On the main floor is the Aspen common room, which has dining tables, couches, two TVs and plays host to events like movie nights on Mondays (complete with free popcorn) and free Sunday night pasta dinners. On the wall is a bulletin board full of signups for group activities like hiking, video games and art. Residents can check out a PS4 or Wii and in the future there will be karaoke and open-mic nights. No cooking is allowed in the building but each room has a refrigerator and the common room has microwaves and toasters in addition to the outdoor grills.
On the basement level is a fitness center, open to all Sun Valley Resort employees, not just residents. The space is open 24/7. Also on the basement level is a laundry room, free for residents, and ski/snowboard storage with moveable racks on tracks.
The second and third floors are home to the residences, with two wings on each floor on either side of a common TV lounge. Each floor also has informational TVs mounted to the walls that show events going on that day, the menu at the employee dining room (known as "The Place") and the bus schedule.
The Alpine Building
The Alpine building's rooms are set up more like apartments than dorms, perfect for married couples, longer-term employees or those who are looking for a quieter living scene than might be found in the dorm-style Aspen building. Completed in June of this year, the building has 62 rooms: 28 couples rooms, 28 doubles, and four singles, which can accommodate up to 124 employees.
The building is set up similarly to the Aspen with a common space on the main floor and lounges on the second and third floors. All rooms feature either double beds or full couples beds as well as a mini-fridge and private bathroom in each room. The building has a laundry room and storage as well, but no fitness center.
Sustainability
Developers took a number of measures to make the project energy conservative and as green as possible.
Both buildings comply with the International Energy Conservation Code (IECC) for energy performance. Thermally insulated low-e windows were installed, as were interior window treatments that prevent heat gain or loss. There are high-efficiency hydronic VRF heating and cooling systems throughout both buildings, variable speed drives on all fan and pump motors, a 90-percent-efficient condensing boiler for heating the buildings, a 90-percent-efficient condensing water heater installed, high-performance LED light fixtures located throughout the buildings, and stairwell lights that automatically dim during times of no detected activity.
Dorm rooms are equipped with vacancy "off" sensors, and exterior buildings and pathway lighting are automatically controlled with times and sensors. The Aspen building interior lighting exceeds the IECC by 57 percent and exterior lighting by 68 percent and the Alpine building interior lighting exceeds the IECC by 70 percent and exterior lighting by 95 percent. 
Low-activity spaces are equipped with occupancy sensors to decrease the amount of energy when not in use. Low-flow plumbing and fixtures were installed in guest rooms and public spaces.
The buildings have also made great use of solar photovoltaic panels, which were installed on both to optimize the constant sun our area provides.
The total system will generate 103,000 kWH per year and the cost savings with the use of solar panels are estimated to save the resort around $7,200 per year at current rates. Sun Valley anticipates the solar panel system paying for itself in nine years.
Highhouse estimated that the Aspen building, which is up and running and producing electricity, has produced 1.08 megawatts in the last month.