BY LESLIE REGO
It is sunny and 25 degrees outside. I am dressed to the hilt in my winter garb because I am attempting to sketch a scene in my back meadow. I have a hat, a neck gator, gloves with holes for the fingers to peek out, long johns, several layers of sweaters, woolen vest, coat, warm boots, and two layers of wool socks. I tend to get cold and I am trying to last as long as possible in the snowy field.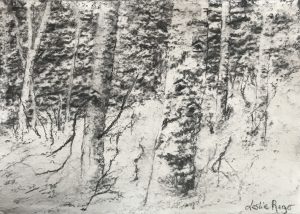 For several days I have trudged through the snow, which is now above my knees, studying the snow-covered trees. Particles of snow cling to the bark of the trunks, cover the branches, and fill the intersections between the branches. There is a lot of information, which I need to whittle down. It is way too much to draw in the cold. I notice which side of the tree the snow gathers (the north side.) I see how the snow attaches to the "eyebrows" above the eyes of the aspens, making them appear like an old man's shaggy brow.
Winter grass is bravely poking out of the snow. Considering there are millions of blades of grass in the meadow, the few that extend through the white fluff are miraculous. They are the valiant ones, the ones that refuse to be laid low by inclement weather. And yet they have another challenge to best. The snow has built up on the delicate stems and over the leaves. These thin stalks carry two to three inches of snow, but are stalwart in their endeavors to face the winter world and not succumb to the wintry tomb under the mounds of flakes.
In cold weather, I like to use charcoal as my chosen medium because it is quick, painterly, and does not freeze or become troublesome with extreme conditions. I etch in some lines. I study the outlines of the trees and capture them with a few strokes. Then I take out my pencil and jot down some notes of the direction of the sun and the different values for the lights and darks. I can refer to these later when I am inside.
In total, I have sketched about 30 minutes on this drawing. I put this paper away and begin another. By the time the sun has left the meadow, I have lasted about 50 minutes. It is time to return to the warmth of the house. The scenes are imprinted in my memory and I can finish them leisurely in front of the fire.
Leslie Rego is an Idaho Press Club award-winning columnist, artist and Blaine County resident. To view more of Rego's art, visit leslierego.com.