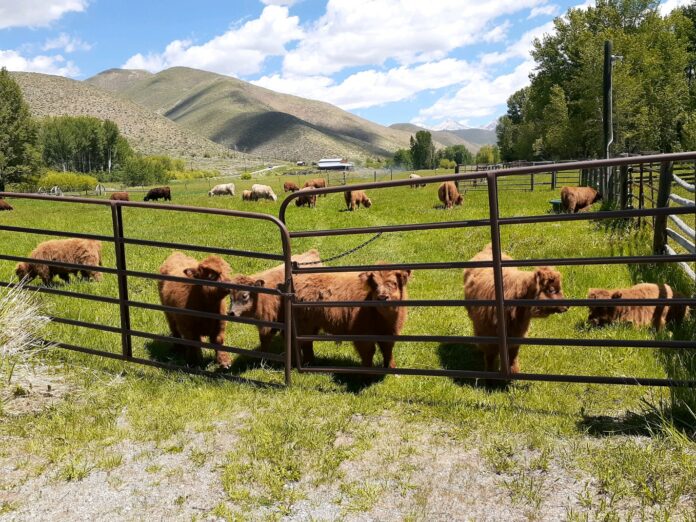 Court case alleges East Fork water theft, tax evasion, more
By Eric Valentine
ATTN: Valley producers, actors, writers, and film festival enthusiasts—especially any of you considering a more full-time residency here—listen up. Yellowstone—that hit TV show shot, now entirely, in Montana—ain't got nothing on Idaho. Our landscape is prettier, our wildlife is more abundant, we only have one less Emmy than them, and all we need to write the pilot episode is the text of a 98-page lawsuit filed in court last year, in which a cadre of defendants are trying their darnedest to get dismissed.
So what's the plot? A Valley homeowner in the Hyndman View Subdivision is the plaintiff in a court case that alleges the Sept. 9, 2020 event that caused three miles of the East Fork Big Wood River to run dry was the handiwork—not of climate change—but of, primarily, a trio of part-time Valley denizens who are working in consort to make their Highland cattle-raising business pencil out. Here's the catch: the most hands-on one of the bunch—and the one who's named as the lead defendant in the case—is:
Stealing water

 

(more than 358,000 gallons once, according to the state)
Killing trout (thousands of them, according to the county, because three miles of the East Fork went dry for 27 hours), and
Cheating Blaine County out of property tax money
In case you were wondering, Highland cattle raising—actually, raising any livestock or doing any farming—in the Hyndman View Subdivision is expressly prohibited by this high-end North Valley's homeowners association (HOA) within its legally binding contract (the covenants, conditions and restrictions, or CC&Rs) all homeowners agree to and sign upon purchasing their home.
Let's call it … Grand Theft Water … No, that's sort of taken. Let's call it A Robber Runs Through It … No, too on-the-nose. Moo Men? No, that's utterly silly. Here it is: Less Big Wood.
Less Big Wood—Episode 1
Now here's where the character arcs develop and the plot thickens. It's that point in the story where if you know binge watchers, you'd need to be on the lookout for spoiler alerts. In fact, the plot almost gets surreal, like a Coen brothers classic—gritty and compelling, and kind of funny, until it's not.
Case in point: Two of the cast of characters named in the formal complaint that asks for a jury trial are not cowboys, but some may say they play one—on their land in Hailey.
They are:
Ivy League alumnus Ajay Nagpal, the chief operating officer for Millennium Management—a New York-based global hedge fund
Robert Mitchell, an 84-year-old, Stanford University-trained heart and lung surgeon from Silicon Valley
Then there is Jeff Brendel, who the plaintiff's attorney describes as "the ringleader" in some parts of the court filings. Brendel and his son own and operate Idaho Ranch Hands, which has a website that says it's based out of Sun Valley. The father-and-son duo claim to have "more than a decade of experience caring for and maintaining premium ranches and estates."
"Take care of the land and the land will take care of you," is a quote above a photo of the senior Brendel shown toiling on a ranch somewhere.
Prior to Brendel's venture into cowboying, he found success selling foreign currency investment contracts. That success ended in December 1999, when an Idaho judge found him guilty of securities fraud. According to a press release by Marilyn Scanlan, Idaho's Securities Bureau Chief at the time, the court ordered Brendel to refund two Idaho investors, banned him from selling securities, and also placed restrictions on his future Idaho business activities.
It gets better. There's a climax: Representing the men who have brought 50 or more head of cattle to a non-agricultural area of Hailey and who have jeopardized property values and wildlife in the area was Fritz Haemmerle, the former mayor of the City of Hailey. The plaintiff in the case is a guy named Hal, short for Halbert Lindquist, who happens to be one of the founders of a next-generation software and data company, but not quite the level of 2001 A Space Odyssey technology. His attorney's name is, you probably guessed it, Dave—short for David Concannon.
And it all starts to feel like Stanley Kubrick is directing, but that's a ship that has sailed.
A Case Odyssey
This article is leaving out a couple names involved, a few other allegations, several protests filed by environmental groups, and details like lot numbers and homeowners association bylaws and proxy votes. Currently, the case is halfway through the discovery phase. All of what's been discovered and alleged and argued up to this point can be found in documented reports by county and state agencies and the courts. It's public record, Case No. CV07-21-00416 in the Fifth District Court, if you're curious.
Here are some highlights taken verbatim from the court filings:
• Nagpal and Mitchell have been using Subdivision property to raise cattle for nearly a decade. On January 1, 2013, Defendant 308 entered into a Grazing Lease with Mitchell for the 20-acre parcel and Lot 21 in the Subdivision. Concannon Decl., Ex. 3. This lease allowed Mitchell to use the total 22-acre premises to pasture up to 50 head of livestock "and other agricultural purposes" each year from May to October. Shortly thereafter, Nagpal filed an application for an agricultural exemption from Blaine County property taxes for all 22 acres, stating that they would be used to graze 25.5 head of cattle per acre for six months of the year. Concannon Decl., Ex. 4.
• Mitchell owns or controls eight lots in the Subdivision: Lots 13, 18, 19, 31, 32, 33, 34 and 35. See Def. Mitchell and Henderson's Answer to Pls.' 2nd Am. Compl. ("Def. M&H Ans."), at ¶ 1. Mitchell's properties have three irrigation water rights from the East Fork of the Wood River and a domestic ground water right, all curtailed by priority on or before July 13th of each year. Concannon Decl., Ex. 5. Mitchell has been out of compliance with these water rights, consistently drawing more water than he is legally entitled to, since at least 2007.  See also Concannon Decl., Exs. 5, 6 and 7.
• On September 7-8, 2020, Mitchell illegally diverted 358,435 gallons of water from the river, causing three miles of river to dry up downstream and killing thousands of fish. Concannon Decl., Ex. 5 at 1. Mitchell claimed that he drained the water to fill ponds on his properties used for irrigation.
• The inspection also revealed that Mitchell has two wells on his properties, the first used to irrigate one acre around his home (that is not part of the 19 zones), and the second is used to fill "a stock tank that waters roughly 25-30 cattle" and the pond used to irrigate the 19 zones. In 2007, the IDWR notified Mitchell that he had no water rights allowing diversion to two of the three ponds on the property and that these uses were therefore unauthorized. As of today, Mitchell is still illegally diverting water from the East Fork of the Wood River to the detriment of those downstream, including Plaintiff.
• Additionally, Mitchell continues to use his properties to store beehives on Lots 31 and 32 and operate a commercial tree farm. Lynn Decl., ¶ 17. Mitchell admits he takes an agricultural tax exemption for these activities.